Triple "S" Summer Hockey Training Camp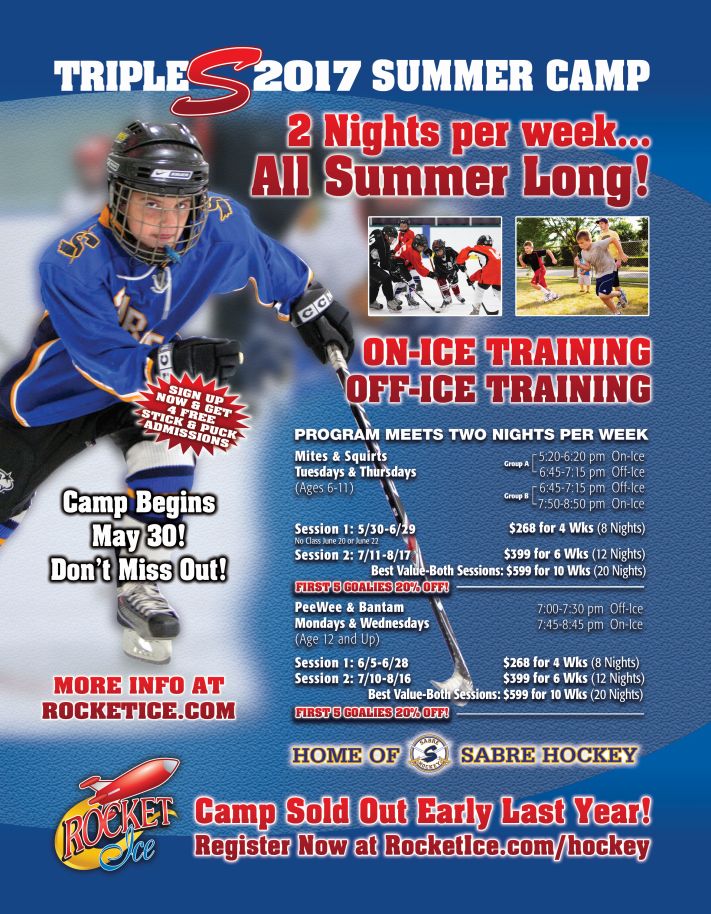 Skating, Stick Handling, and Scoring!
The Triple "S" Hockey Training Camp focuses on three skills
Skating

Stick Handling

Scoring
By mastering these three "S's" your game will improve greatly. The Rocket Ice Triple "S" Camp is the best hockey training camp and power skating program in the southwest suburbs. It is consistently two nights a week in order to prepare hockey players for next season's tryouts. If you are looking for an edge at tryouts, wish to improve your fitness, and want to have fun while mastering your hockey skills, join our Triple "S" Hockey Camp.
You Will Improve and Have a Good Time!
By combining on and off- ice hockey training, coaches are able to get you in great playing shape. Triple "S" Summer Hockey Camp tailors workouts specifically to hockey. Your quick-twitch muscles, response times, speed and strength will increase. Practices won't be easy which is why we always try to have fun. It is important to us that you are ready for tryouts, but it is also necessary that you are positively motivated and encouraged.  
Off-ice hockey training develops overall fitness. These workouts are just as important as on-ice practices. Off-ice training is important because agility, quickness, and strength transfers directly on-ice. Each workout will be unique in order to work different muscles and techniques for complete body fitness and strength.
Off-ice training will focus on...
Abdominal Exercises

Strength Training

Conditioning

Balance

Agility

Plyometrics

Drills
On-ice hockey training improves ice skating fundamentals as well as hockey skills. By integrating power and conditioning with skill based training, you will be in top playing condition. The main focus of on-ice training will be...
Skating Form

Speed

Hockey Moves

Backward Skating

Power Skating

Endurance

Stick Handling

Passing

Power Shooting

Checking for PeeWee and above
Water Bottle- staying hydrated will be very important

Clothes and Gym Shoes for off-ice sessions

Full equipment for on-ice training- full equipment may not always be used, but it is important to come to camp prepared