Public Ice Skating: Fun For the Family
Rockin' Public Skate at Rocket Ice Skating Rink
Public ice skating at Rocket Ice Skating Rink provides a great opportunity for the whole family to get out on the ice together. It is a fun setting for beginners to give skating a try in a relaxed environment. The music rocks and the mood is friendly, so come out and join the fun!  See calendar below for dates and times.
Less Expensive Than a Movie & Lots More Fun!
| | |
| --- | --- |
| Adult/Youth (12 & Up) | $7.00 |
| Children | $6.00 |
| Skate Rental | $3.00 |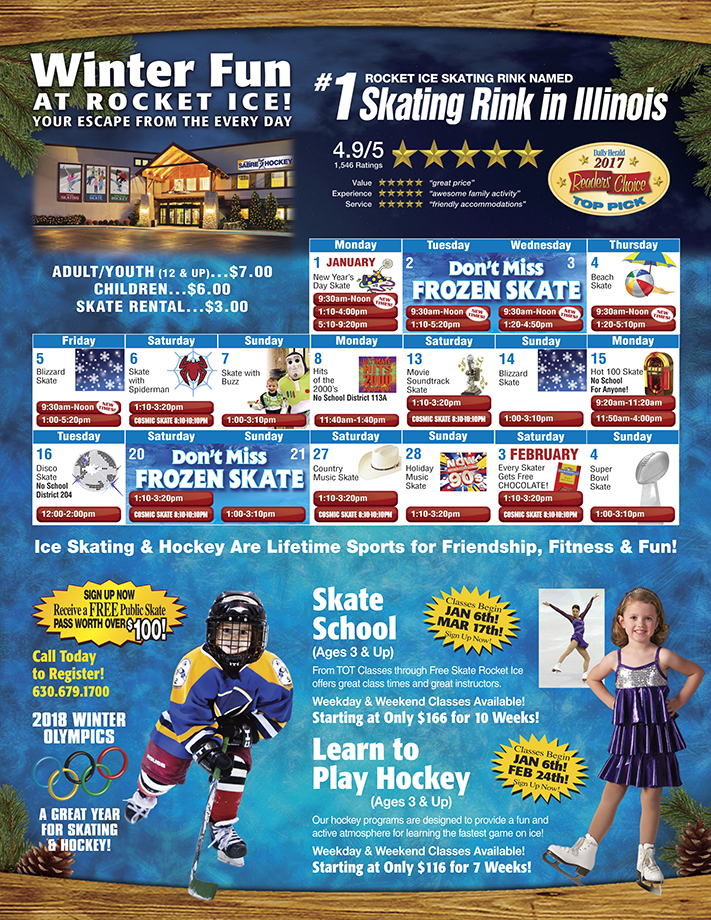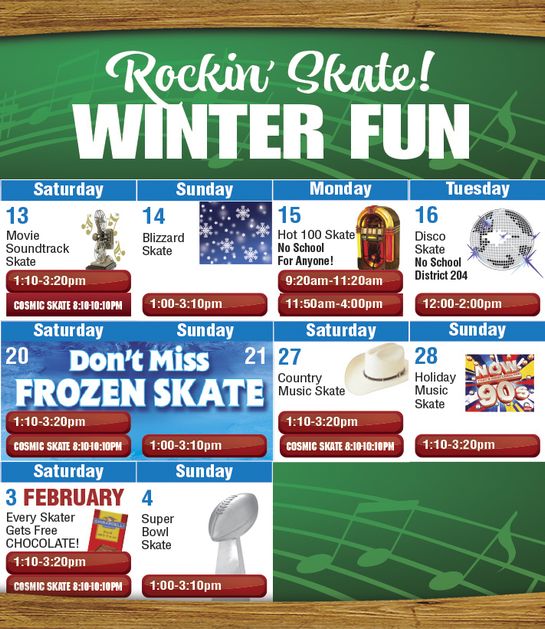 Days off School? Come to Rockin' Public Skating!
See calendar above for date and times 
Extended public skating on days off school
We monitor school district calendars
We are open when school is closed . . . see calendar above
Great time to bring your friends and enjoy your day off
Public skating is the coolest way to spend your day!
Why Rockin' Public Ice Skating Rocks
See calendar above for dates and times

Public skating sessions have a music or character theme

Character skates include Santa Claus, Frosty the Snowman, Rudolph the Red-Nosed Reindeer, Paddy the Leprechaun, Sponge Bob, Woody and more!

Even Tommy Hawk, the Blackhawk's mascot, ice skates each year at our Rockin' Public Skating

Music themes include Top 100 Hits, Rock 'n Roll, Country, Disco and much more!

We offer reliable, convenient times and great prices

See our calendar for more details

Public skating is less expensive than a movie and lots more fun!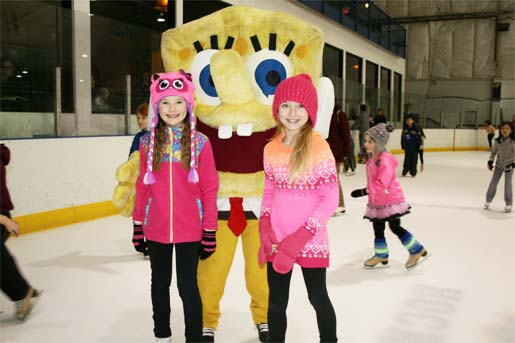 Skate guards to lend a hand

Ice skating "gliders" to assist young ice skaters

Great Music

Lots of laughs and smiles
Socks for ice skates

Comfortable clothes for 55 degrees

Gloves or mittens and a hat

Your phone to capture photos and videos of the fun!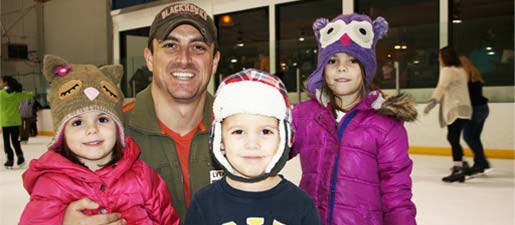 At Rocket Ice Skating Rink, those who don't ice skate can come and relax at our Lake Placid or Lake Tahoe Lodge. With plenty of seats and tables available you can also grab a coffee or a hot chocolate from our Yukon Café. Moms, Dads or Grandparents who may not ice skate can see their child during public skating from one of our coffee tables. Rocket Ice Skating Rink has free Wi-Fi so you can surf the web, check your email, Snapchat, or browse through Facebook. Remember, you don't have to ice skate to have a great time at Rocket Ice! If you are interested in learning to ice skate, sign up for our youth ice skating lessons, youth learn to play hockey lessons, or adult hockey lessons depending on your age and interests!