Starfire Synchronized Ice Skating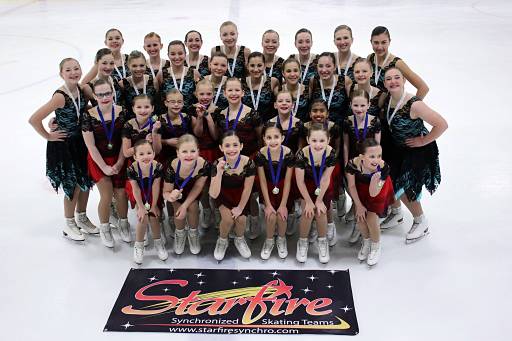 Our Mission for Starfire Synchronized Ice Skating
The purpose of our STARFIRE program at Rocket Ice Skating Rink is to provide skaters with the opportunity to participate in the ever growing sport of Synchronized Ice Skating. Our program advances individual ice skating skills, enhances self confidence and improves performance techniques through both on-ice and off-ice practice. The STARFIRE program stresses Good Sportsmanship, Cooperation, Leadership and Community Awareness through the competitive experience and service projects. In the past, Starfire has volunteered for Feed My Starving Children and walked to raise awareness for Breast Cancer.
What is Synchronized Ice Skating?
Synchronized ice skating is a team sport in which 8-20 skaters perform an ice skating routine together. It uses the same judging system as singles, pairs and dance. It is characterized by teamwork, speed, intricate formations and challenging step sequences. As with the other disciplines, all teams perform a free skate with required well-balanced program elements. Teams at the junior and senior level perform a short program consisting of required elements.

Elements in synchronized ice skating include: blocks, circles, wheels, lines, intersections, and more. The variety and difficulty of elements require that each team member is a highly skilled individual skater. The typical senior-level athlete has passed a senior or gold test in at least two disciplines.

Synchronized ice skating teams in the U.S. can compete in 15 different levels according to the age and skill level of the team members.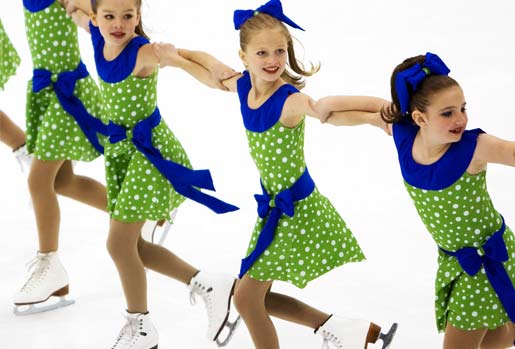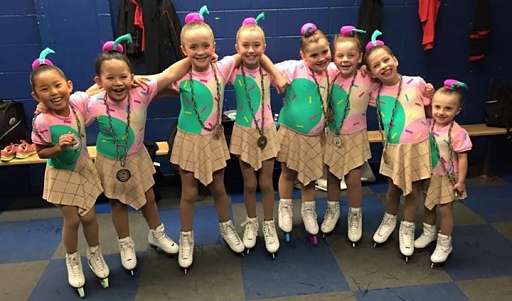 The Ultimate Team Experience: Why Synchronized Ice Skating is Different
You must have complete trust in your teammates.

There is a lot to consider while performing.

Engaging the audience through use of facial expressions and energy is just one component of the routine.

Every ice skater holds equal importance to the team.

There is no individual scoring, judging is based on the synchronized ice skating team's performance as a whole.

Communication and teamwork is essential to success.
Each year we provide several "Taste of Synchro" and "Try Synchro for Free" events to let our students and parents learn more about Synchronized Skating.  Each year regularly scheduled tryouts occur in late March and early April.  It is possible to join a team at other times during the year in certain situations.  February 2018 Taste of Synchro Information
Interested in Joining the fun of being on a Synchronized Skating Team?
Simply send us an email at office@rocketice.com and we will provide you with the information you need.
Synchronized Ice Skating History
Synchronized ice skating is a popular discipline both within U.S. Figure Skating and around the world. U.S. Figure Skating held the first U.S. Synchronized Skating Championships in 1984 and also hosted the first World Synchronized Skating Championships in 2000. There are approximately 525 synchronized ice skating teams registered with U.S. Figure Skating, and nearly 5,000 athletes participate annually in the Synchronized Skating Sectional Championships.
Synchronized Ice Skating in College
Ice skating does not have to end when college begins!  Each year, approximately 35 colleges participate in U.S. Figure Skating's Synchronized Skating Sectional Championships, entering the Open Collegiate, Collegiate, Junior and Senior levels. There are many Universities in the Midwest that have a Synchronized Ice Skating program such as:
University of Illinois Urbana-Champaign

Northwestern University

University of Notre Dame

Illinois State University

University of Michigan

Michigan State University

University of Wisconsin-Madison

Indiana University

Central Michigan University

Miami University of Ohio

Ohio State University

Robert Morris University

Western Michigan University.
For a list of all colleges with figure skating, go to the list of colleges on U.S. Figure Skating's Collegiate Skating page: http://www.usfigureskating.org/Content/colleges.pdf
Although not currently an Olympic sport, fans and participants of this fast-growing discipline have begun to strive for recognition by the rest of the skating and athletic world. In 2007 synchronized skating took one step closer to Olympic contention when it was selected to be part of the World University Games as a demonstration sport.
(Much of this information is from US Figure Skating's website. Please visit www.usfsa.org/Programs.asp?id=44 for more details.)